Term 3 Week 10 Newsletter September 15
Acknowledgement of Country
We acknowledge the traditional owners, the Gunditjmara people, on whose land we learn, work and play. We recognise their continuing connection to land, waters and culture. We pay our respects to their elders- past, present and emerging believing that we can walk together for a better future.
Principal's Report
We have made it to the end of a very busy but productive term.
I would like to congratulate everyone for their achievements throughout the term, whether they be academic, social, artistic, sporting or personal. Everyone in our school has achieved something this term, no matter how big or small it may seem, of which they should be extremely proud.
Thank you to our hardworking staff for everything that you do to support our students. The commitment and dedication that you show is admirable. Our students are very lucky to have such caring people encouraging them to learn and grow. Enjoy your break.
School will finish at 2:15pm on Friday September 15. This day will also be our pyjama day so all students can wear their PJs to school for a comfy and relaxing last day. We hope everyone has an enjoyable and relaxing holiday.
School will resume for everyone on Monday October 2. Can't wait to see you all then and hera about your exciting holidays.
Regards
Jamie
School Concert
School Concert
What a fantastic show our students put on last Thursday. It was great to see all the children on stage having such a wonderful time. There were lots of nerves and anxiety in the lead up from teachers and students but this all went away as they performed so brilliantly. The costumes and props looked great and the moves were graceful.
It was wonderful reward for effort and I would like to thank everyone involved especially our amazing staff and students. It makes me very proud to be principal of such a great school when we can hold events such as these and see the community involvement.
Congratulations everyone!
My New Gallery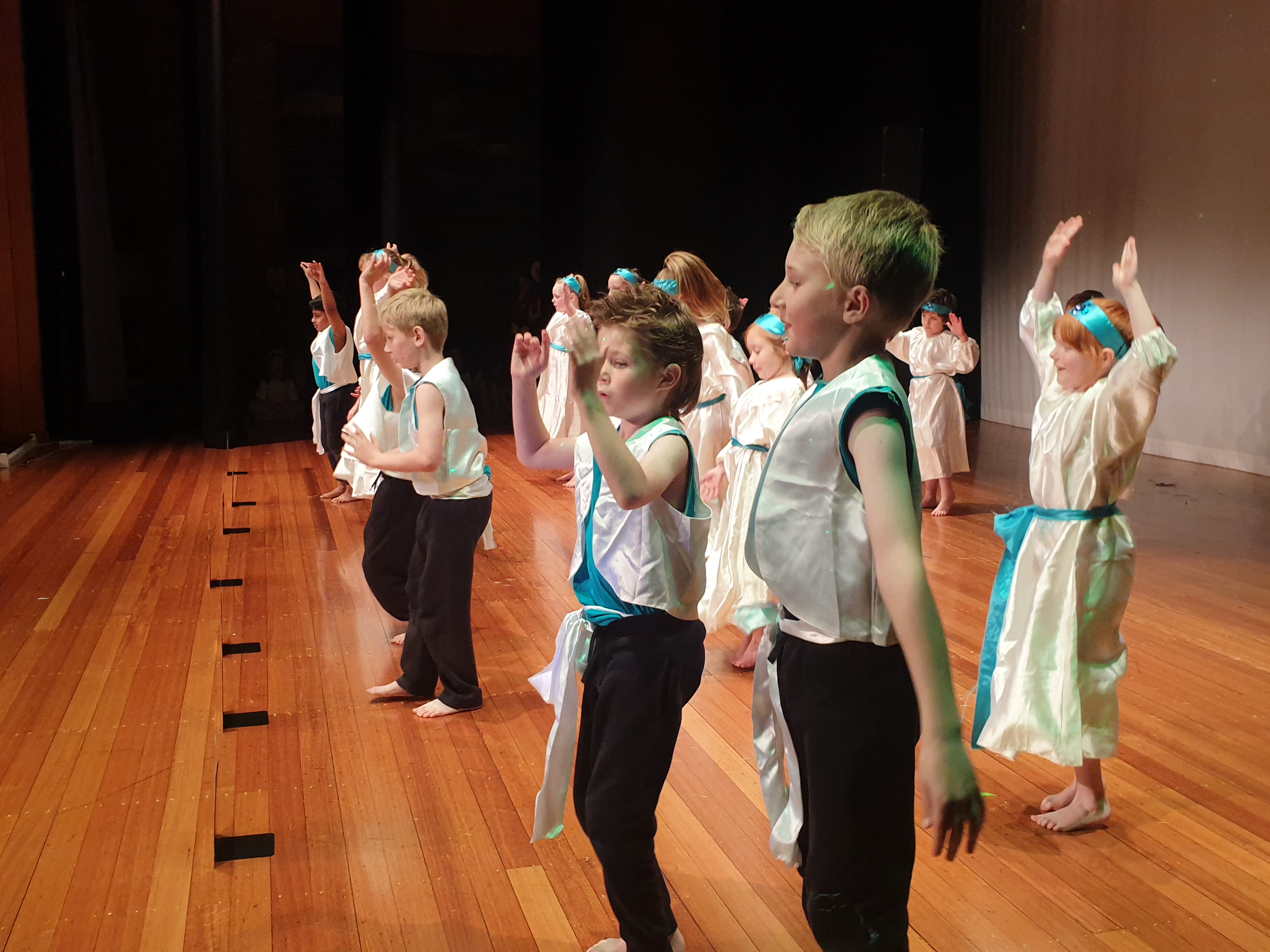 Prev
Showing images
1 - 8
of 38
Next
Prayer
Sacrament of Confirmation- September 9 & 10
Congratulations to Ivy Donovan, Giro Gavino, Cassie Vecchio, Althea Howman, Ilaria Toohey and Payton Buchner who celebrated the Sacrament of Confirmation last weekend. We wish you all the best as you continue along your faith journey with your families and with the All Saints Parish.
Confirmation
Thank You and Best Wishes
Thank you to the following staff who will be leaving us at the end of this term.
We would like to say a very big thank you to Mr. Ross for teaching us in Science this term while Mr. Staples filled in for Mrs. Murrell while she was away. We really appreciate what you have done for our students in Science Ross and they have had a great time.
We also wish Miss Mal all the best as she finishes her term in 3/4DL. The 3/4 children have been very lucky to have you working with them this term. We hope that you have been able to learn some things from us that will help you in your future teaching career. Thank you and good luck.
We also say goodbye and good luck to Mrs. Kennedy as she takes some leave before the arrival of baby number 2. The children in 1/2 have been really lucky to have you as an art/music teacher on Thursdays and also in 1/2DW on Fridays. We wish you, Mikey and Elsie all the best as you welcome another member into your beautiful family.
Learning and Teaching
Term 3 will finish at 2:15pm tomorrow (Friday September 15).
Buses will run at 2:30pm.
We wish everyone a fantastic and relaxing holiday.
Term 4 begins on Monday October 2.
Physical Education & Sports Report
BASKETBALL
Girls
Thursday week 8, our girls' basketball team travelled to Portland Basketball Stadium to test their skills at the district championships. While we fell short of our goal, I could not be prouder of our team who left everything out on the court and represented our school community with exceptional sportsmanship. At times we got ahead against Portland Primary, but unfortunately while we played exceptionally well, it was hard to get a rebound against a very tall Portland Primary outfit.
Game 1 All Saints 44 def North 1
Game 2 All Saints 30 def Heywood 17
Game 3 All Saints 42 def Bundarra 2
Semi-Final All Saints 36 def Bolwarra 14
Grand Final Portland Primary 27 def All Saints 21
Boys
Thursday September 7, our boys team traveled to the Portland Basketball Stadium to compete. With two close early losses (under Mr. Walsh's coaching) against North and eventual champions Heywood, the boys had strong wins (under Mr. White's coaching) against Bundarra and South Portland Primary School in our consolation final. One of the positives was being able to blood students such as Charlie Dainty, who have not played basketball before. Charlie participated in this year's coaching with WNBL player Cassandra Brown, as well as all trial events. It was great to see the team get behind Charlie and support his efforts. Well done Charlie on your 2 goals for the day! An amazing effort.
Upcoming Sports Dates:
Friday October 6 - Greater Western Regional Track & Field Finals, Ballarat
Wednesday October 18 - Regional Volleyball Finals, Horsham
Tuesday October 24 - All Stars Regional Basketball Finals (Grade 3/4) – Hamilton
GO ALL SAINTS!!!!!
Basketball Teams
School Information
Just a few reminders in preparation for next term.
*All children will be required to wear the school hat in term 4. If you do not have a purple school bucket hat they can be purchased through CDFPay and we can give them to your child at school or you can send money to the office to buy a hat. School hats are available for $10.
*Canteen next term will be held on Thursday each week. All orders will need to be completed online by Wednesday night. All orders that were placed for Friday September 8 (the day we had no power) will be carried over for students on Thursday October 5.
*Our Foundation classes will be participating in swimming lessons next term. Swimming lessons will occur each Monday for the term commencing on Monday October 2.
FCL 11:00am - 11:45am
FRP 11:45am - 12:30pm
*Our 5/6 students will participate in surfing lessons later in the term. More information will come closer to the date.
*Grandparents Day is scheduled for Monday October 23. More details about this day will be sent early next term.
*Our Art Show will be held from Tuesday October 24 - Friday October 27.
*October is International Walk to School Month. Children are encouraged to walk, ride, scoot or run to school. We will work on a plan for bus travellers to participate if they wish.
*Monday November 6 is a Student Free Day. There will be no school for students on this day. Tuesday November 7 is a public holiday for the Melbourne Cup. We hope everyone enjoys an extra long weekend.
Child Safety & Wellbeing
Child Safety
Child Safe Standards (eleven in total) came into effect in July last year and are a vital part of what we do here at All Saints. But, what do these standards look like in practice? Over the coming months we will look at these standards in closer detail.
Standard 6 - People working with children and young people are suitable and supported to reflect
child safety and wellbeing values in practice.
At All Saints we can see this standard in action in a variety of ways. As part of Child Safety, any
volunteers coming in to work with our children must be vetted and hold a valid Working With
Children's Check (WWCC) Parent helpers for school activities, such as camps, excursions or our canteen, are required to hold a current WWCC. Any new CRT's that start at All Saints are
invited in for an orientation meeting with our CRT coordinator, Miss O'Keefe, who runs through our policies and procedures here at school, particularly in the area of Child Safety and Emergency Management. All adults working with our students must hold either registration with the Victorian Institute of Teaching (VIT) or a valid WWCC.
More information about these standards can be found here:
https://ccyp.vic.gov.au/child-safe-standards/the-11-child-safe-standards/ 
Leadership & Stewardship
SAC Meeting
Our next meeting is on Tuesday October 17 at 7:00pm in the school library.
Change of dates for the end of the year
Please read the attached letter from the MacKillp Network Schools outlining a change of dates for the end of our 2023 school year.
Happy Birthday
SEPTEMBER BIRTHDAYS
Henry Garner, Floyd Robertson, Jensen Inman, Gia Gavino, Thomas James, Savannah Sutton, Chloe Holt, Nash Silva, Layla Richardson, Crissie Jayasundara, Peyton Marshall, Sabra Campbell, Nathaniel Manitta, Sanna Juul, Kobe Field, Noah Bourke, Judd Looker, Idrissa Charlery, Tully Polkinghorne
Hayley, Nicola, Cherie, Toyah, Danielle L, Mrs V
Praying With Children
24th Sunday in Ordinary Time 17 September 2023 - Year A
"I did not say to you to forgive seven times, but seventy-seven times."
Something to Think About:
The parable in today's gospel story helps us reflect on the importance of compassion - of being
able to walk in another's shoes in order to understand their feelings. Think about a time when you
felt someone really listened to you and understood your feelings.
The Story: This gospel story is about forgiveness and it follows on from last week's gospel about community. To 'grow a community' people must be willing both to forgive and to seek forgiveness. Peter says to Jesus that forgiveness is fine - but surely there must be a limit! After all, surely Jesus couldn't expect his disciples (and us) to keeping forgiving and forgiving and forgiving! The gospel message emphasises not only the need to forgive but the willingness to keep forgiving. 70 x 7 = always!
Community News